Community
From South to North and From North to South: Volunteers Transform Schools
Nearly 1,300 people, from different places, joined the solidarity wave to renovate an educational institution in their community. The result? Five remodelled schools, and many children benefited.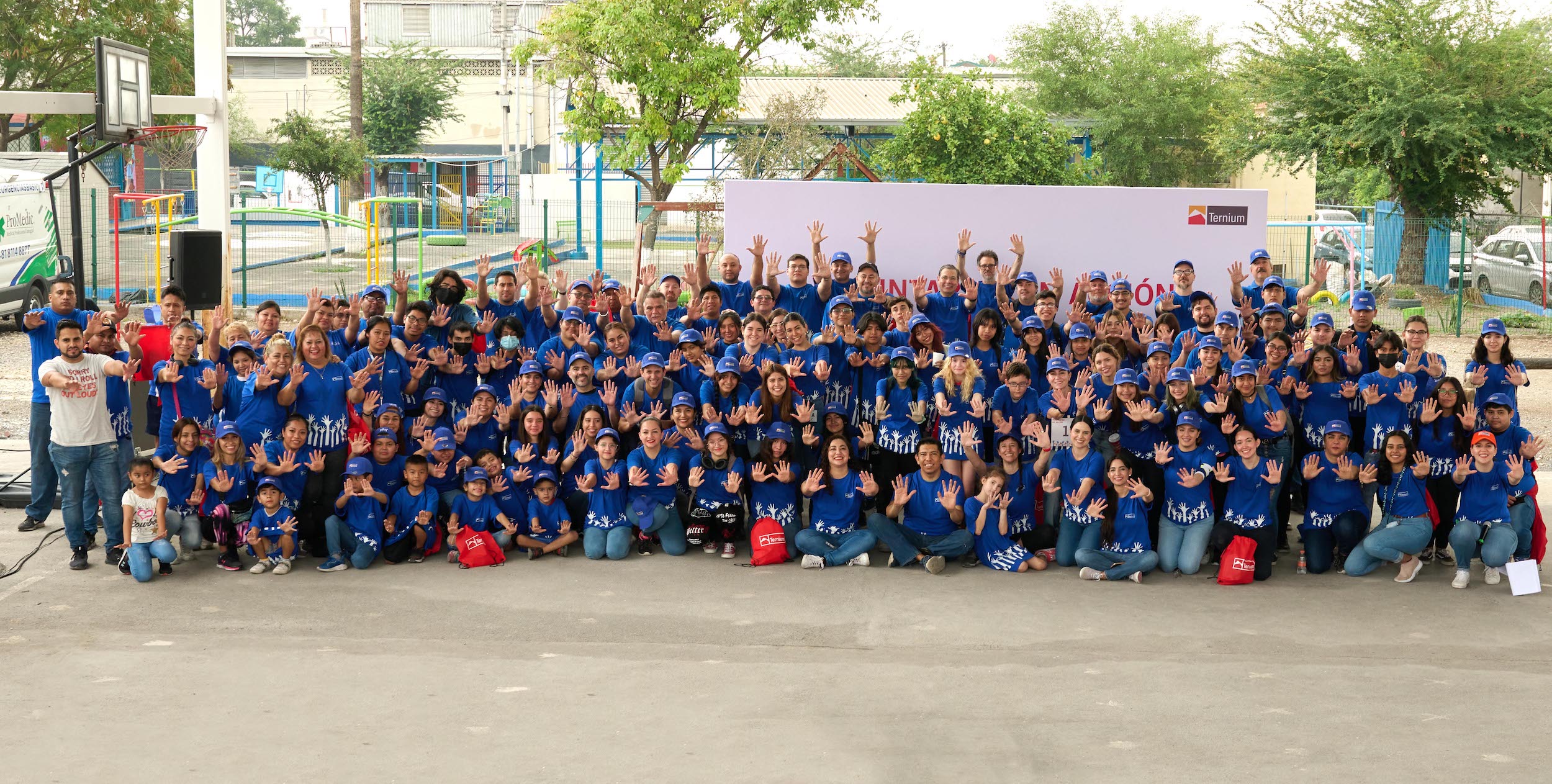 The objective of the Volunteers in Action program is for employees of the Techint Group companies and members of their communities to work together to remodel schools that require support, improving infrastructure and furniture, to provide better learning spaces for students. The proposal is simple: the companies of the Techint Group contribute voluntary hours from their collaborators, resources, advice, and the members of the community join this proposal so that the educational project can materialize in one weekend.
"This not only allows us to strengthen public schools in the region, but also represents an opportunity to share our values with the community: teamwork, commitment, safety and quality," says Luis Grieco, Tenaris Argentina Community Relations Manager.
Between May and June six volunteer activities were carried out, with the participation of nearly 1,300 people. We are sharing the details of each one below.
Technical Education Higher School No. 4, in Zárate, Argentina
With a record participation of 500 volunteers, numerous renovations were carried out: walls that were in poor condition were renewed and others were demolished to expand student transit spaces. The ceiling was changed, openings in poor condition were fixed, lighting fixtures were installed, complete classroom furniture and environmental comfort equipment were placed, and the interior of the school was painted. In total, 7 classrooms were refurbished, the secretarial and management room, the student orientation room and the teachers' room. And two storage spaces were added for auxiliary employees.
Eduardo Carugati, Head of Cuplas Factory Technology, said:
When I learned that the Tenaris Volunteers were coming to this school, I did not want to miss it: I graduated from these same classrooms 43 years ago. Walking in, I got goosebumps. The classroom that I began to paint was one of the ones I used to have classes in."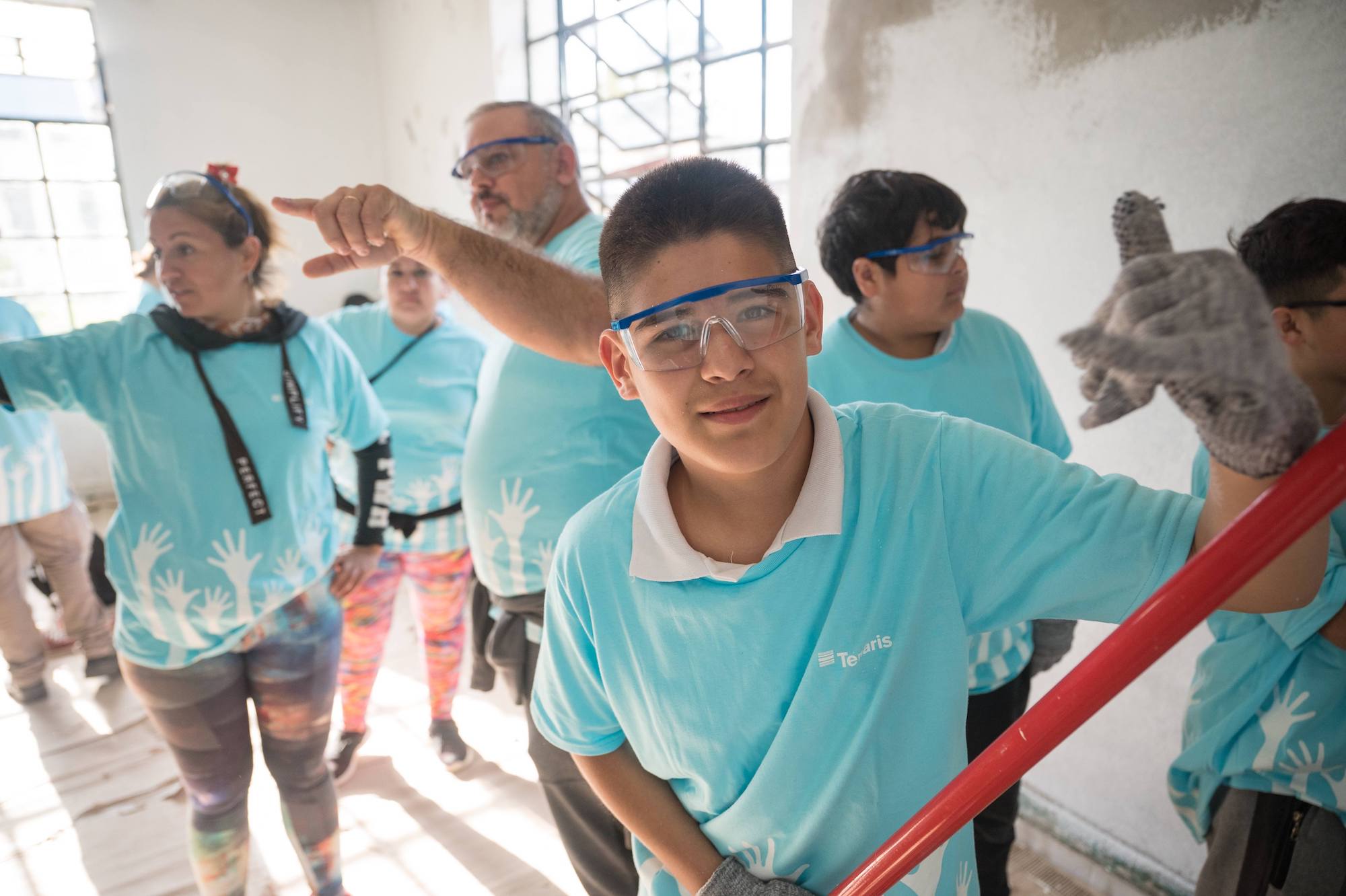 500 volunteers at ET No. 4 in Zárate.
Primary School No. 26 "Mariano Moreno", in Ramallo, Argentina
285 volunteers, including people from the educational community, Ternium employees and former participants of the Roberto Rocca After School program, participated in the improvement of the school, which consisted of conditioning, painting, and gardening tasks. The gym, the SUM and corridors, the school rooms, as well as the hall and entrance spaces were remodelled. In addition, LED sets and luminaires were installed, and five trees were planted on the outer perimeter.
Melina Ferraro de Marco, Ternium Argentina's Administration, said:
When you do something for others, you end up feeling good about yourself. It's a community experience no matter where you come from. We enjoyed it despite working hard. I think the kids are going to enjoy this very much."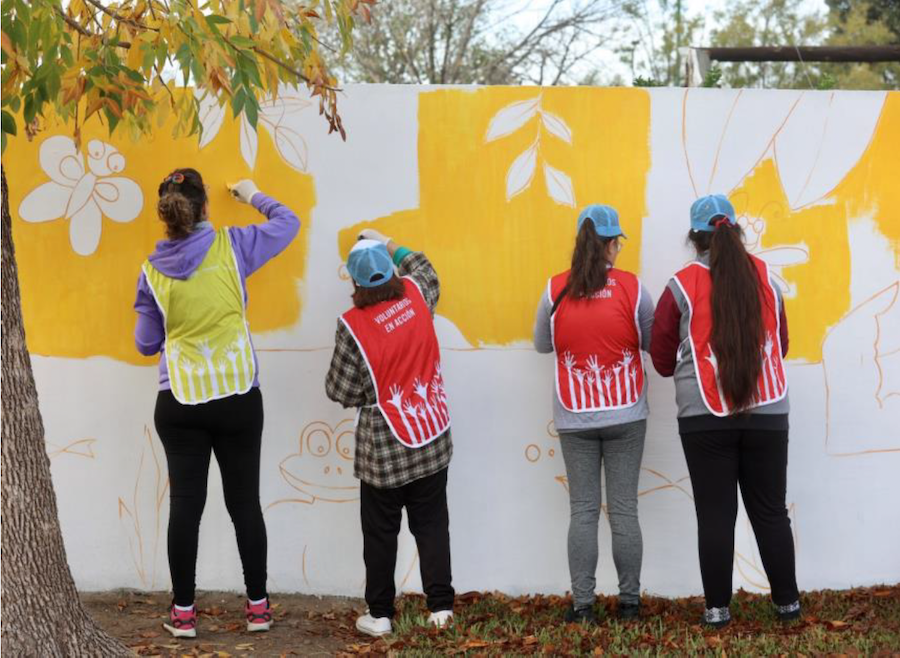 Volunteers painting a mural at Primary School No. 26 in Ramallo.
Kindergarten Primavera, in Veracruz, Mexico
Around 160 volunteers, including workers, accompanied by their families, as well as parents and teachers from this kindergarten, came together to improve the school infrastructure.
During a five-hour day, the fence, a mural and floor games were painted, the children's games were rehabilitated, and the green areas were reforested with 20 trees of six different species and 200 ornamental, aromatic, seasoning and vegetable plants.
To create synergy with other educational programs of TenarisTamsa, students from the Conalep Plantel Veracruz II who are part of the Roberto Rocca Technical Gene program and the leaders of the Roberto Rocca After School, which has two locations in Veracruz, also joined.
Laura Minakata, TenarisTamsa Human Resources Senior Director, shared her testimony:
Part of what we do here is trying to give back to the community something of what it gives us. If we all help this community grow, we can make a better city and a better country."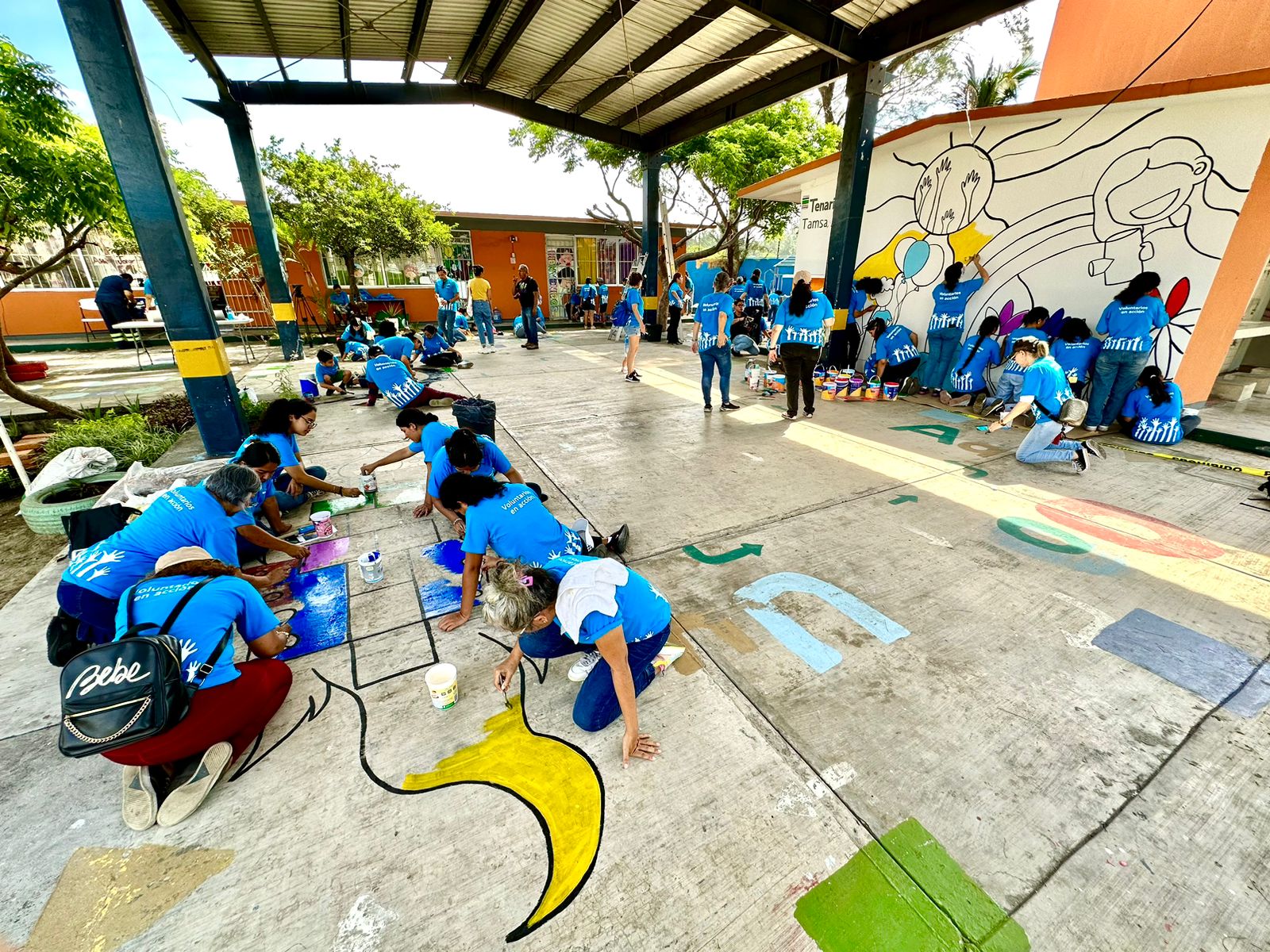 Work in the Primavera Children's Garden, in Veracruz.
"General Francisco Naranjo" Elementary School in Las Flores, Mexico
In the case of Monterrey, volunteering was done at the "General Francisco Naranjo" Elementary School in Las Flores, Monterrey, with the participation of more than 170 participants.
The works consisted of the installation of a roof at the main entrance, the settlement of firm ground to function as a sports field and repairs to common areas. In addition, trees, plants, and pots were placed outside the school.
Juan Valadez, father of a 3rd grade student, said:
It's about being together; the Ternium company, the parents, the director, all the staff. So, when the children arrive on Monday, they feel motivated, inspired, happy, content."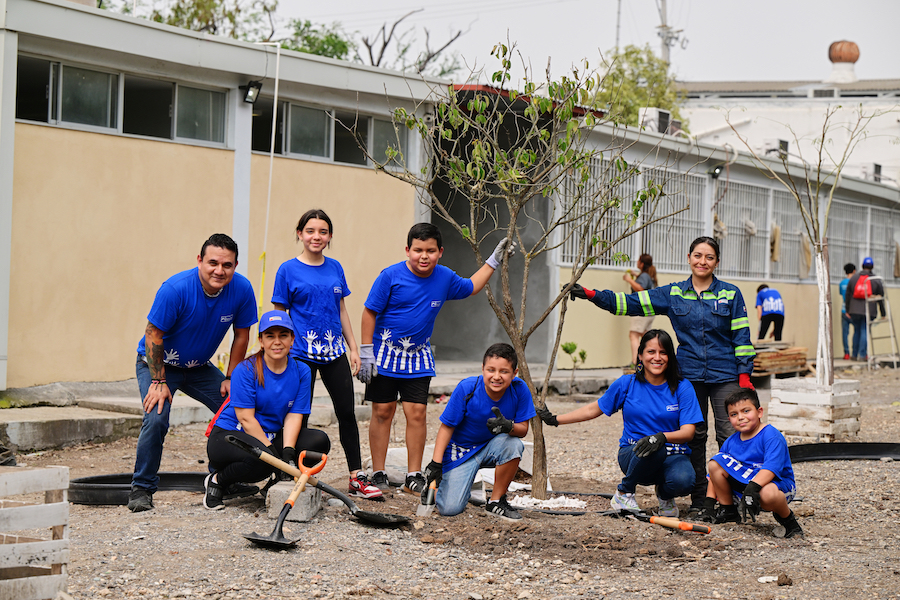 Volunteers at "General Francisco Naranjo" Elementary School in Las Flores, Monterrey.
School No. 343 "Aparicio Saravia", Uruguay
Volunteering work was done at School No. 343 "Aparicio Saravia" in Montevideo. 178 volunteers participated, including 89 Tenaris and Ternium employees, students, teachers, and school authorities, as well as former students.
Restoration and painting works were carried out in classrooms, halls, and outdoor spaces. In addition, games were installed and painted for all the children attending the institution enjoy.
For Joaquín Mateauda, school teacher,
It is a radical change for the place, not only aesthetically, but also relevant for the quality of our educational approach because each space of the institution is a gear for the school functioning."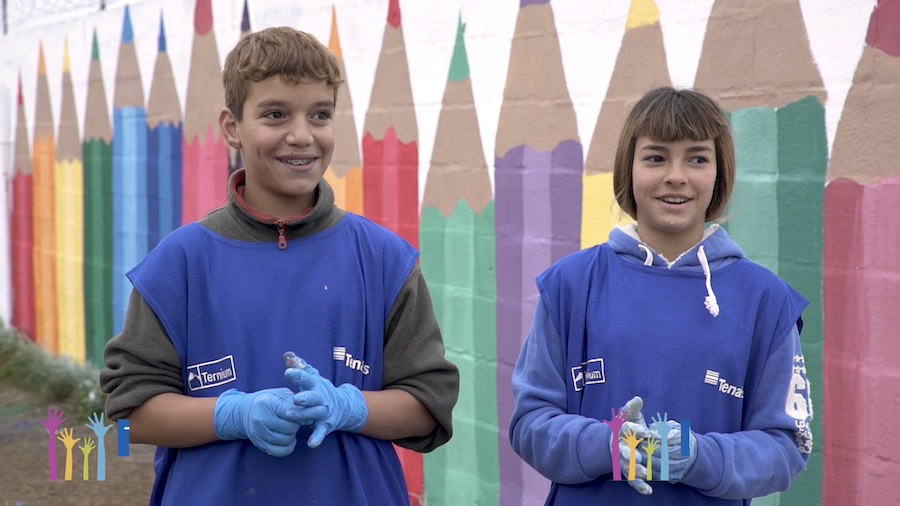 Students and volunteers from School No. 343 in Montevideo.